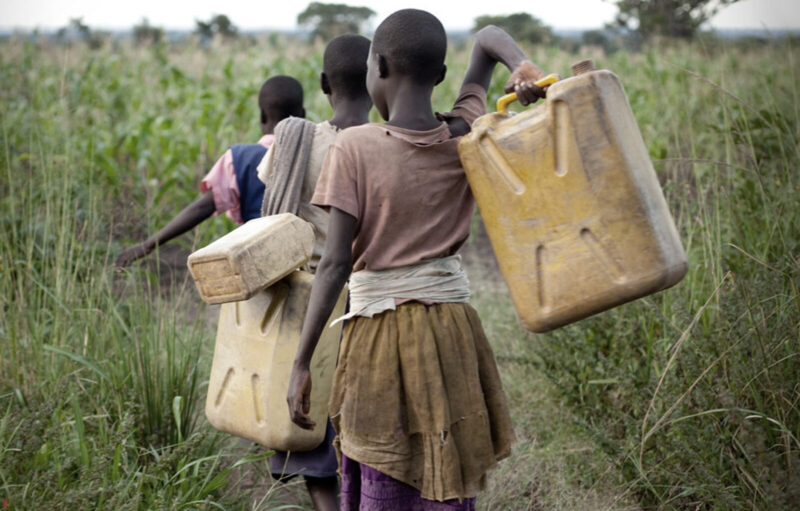 Give the Gift of Clean Water
The CDC estimates that nearly 800 million people – many of whom are children – do not have access to an adequate water source. Often young girls and boys are burdened with the daily chore of walking miles to fetch water with an old pitcher or bucket, only to haul it back.  This necessity can take them one to two hours or more, shifting their time and energy away from that which can get them out of the cycle of poverty – an education.
BECU is looking to change that. With your help, BECU is hoping to drill a new water well in 2021 to benefit not only all the children, but also the Bwindi community. The nearest  well is 27 miles away.
1 in 10 people do not have access to clean water.
Currently, all water used for cooking and cleanup is boiled via an open fire. The water is obtained from an above ground river that is open to pollution from humans as well as animals.
BECU has already completed preliminary studies in 2020 and has a 10-year guarantee provided by the driller. It has been determined that underground water is available with sufficient volume to supply the school all year around with a community tap.
---
Project Details:
Sufficient water supply for school with 500 students including restrooms and cooking facilities.
Elevated water tank sufficient with piping to supply water to entire campus including remote plot for chicken facility and mushroom farm plus community tap
Includes solar panel with electric pump.
Community tap for residents within 1 km of the school facilities.
---
Cost breakdown:
Bore hole $9,000
Tanks and support towers with plumbing to all buildings $4,000
Piping with water heater to food service area $3,000
Solar power system sized for pumping of water and operate water heater for food services $5,000

Estimated cost: $21,000
Join us and be a part of this exciting and rewarding project.