TRIP REPORT | AUGUST 2022 | PRESENTED BY DERYL BEAKLEY, PRESIDENT of BUCC
U.S. LEADERSHIP IMPRESSED BY PROGRESS DURING VISIT TO BWINDI UGANDA
God is great and God is richly blessing our friends at BECU in Bwindi Uganda. My oldest daughter, Shelby and I, visited the facilities in July, for 4 days, and found it in great shape. Thanks to the leadership of Francis Byamukama, the founder and director and with the help of his Board of Trustees under the chairmanship of Jordan Bakesign.
Upon arrival at BECU, we received an amazing reception that included all 500 of the students along with the Mayor of Bwindi, Ugandan government officials, plus 7 members of the Board of Trustees. In addition, there was a group of students that performed singing and dancing, including the Ugandan National Anthem.
These opening festivities also included a tour of the campus. The tour was highlighted with each class making a presentation of their area of study with singing, dancing and answers for key study questions. As part of the reception, we handed out 102 beanie babies to the lower grades which were greatly appreciated and were possibly the first toy that any of these children have ever received. These were donated by Donna and David Bolton.
This was followed by a school-wide celebration with snacks and refreshments for everyone and a great time was had by all! We loved seeing the kids interact with each other, their teachers and local community members. The school was found to be in excellent condition as stated above.
CAMPUS SEES NEAR-DOUBLE GROWTH SINCE 2018
Morgan Gulbas and I first met Francis and visited the campus in January 2018. At that time, the school had 320 total students including 35 orphans and severely vulnerable students. The school had no electrical power or water. There were three buildings consisting of two class buildings and a dormitory.
Since our initial visit in 2018, the school has grown to 502 students including 102 orphans! God's provision and favor for the school is apparent!
PAST SUCCESSES AND PROJECTS
A building for the girl's dorm housing 60 young ladies
Boy's dorm conversion for 40 students (this is planned to be converted back to two classrooms in the near future)
Construction of a two story Administration building and 10 classrooms
Constructed a Security Fence around the campus
Constructed a Medical Clinic and hired a registered nurse. This facility is currently serving about 40 students and 100 community members per month!
Food preparation kitchen with needed facilities including hot water.
Purchase of 1 acre of adjoining property for expansion and housing of chicken facility
Chicken Farm housing 1000 chickens (including chicks & laying hens)
Mushroom Farm for nutritional purposes
Completed a borehole of 8" diameter and 236 feet deep supplying drinkable water for the entire campus. A community tap was also placed providing the only clean water for 23 miles. Storage capacity is 40,000 liters. Capacity is planned for 1,000 students. Per the nurse, stomach and intestinal diseases among the students & community members have greatly decreased with the drilling of the fresh water well.
15 passenger van – provided by the Snisky family.
Playground equipment for the younger children
Purchase of 7.5 acres of land for a food plot which is in production and has cut food expenses from $85k annually to $20k. It also allows for about $1.5k per month to be sold for school income to help defray expenses.
Annual Christmas celebrations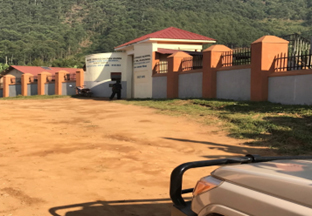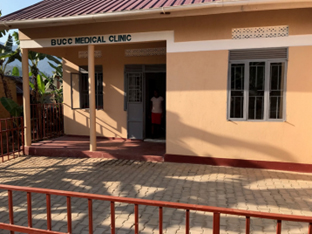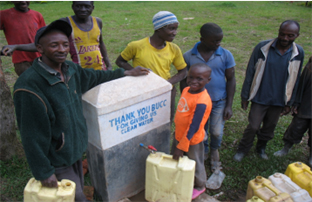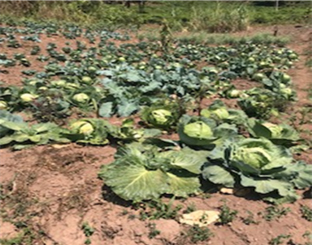 VISIT TO BRILLIANCE HIGH SCHOOL AFFIRMS BECU STUDENT ACHIEVEMENTS, ASPIRATIONS
We visited Brilliance High School where BECU has a cooperative agreement allowing our P7 graduating students to attend high school. It is approximately 25 miles from Bwindi. We had dinner with our past students and the Director. After discussions with him, it is my belief that this is a Christian based school with academics on the same level as BECU. He assured me our students are not behind in any area when they arrive and are well disciplined.
BHS has approximately 200 students. Upon graduation, over 90% are able to pass the national exams and proceed to college, if they desire. We have a total of 23 students studying there. Two of our current students have plans to be a teacher and a doctor in Bwindi. The orphans attending there are allowed to come back to BECU during semester breaks where they are housed and fed in the Happy House adjacent to the school's main campus.
In order to attend Brilliance, the students must first pass their national exam and secondly have a sponsor. We are short several sponsors in this high school program and encourage you to support your student through high school, if possible. The cost is $900 per year in total.
WAYS YOU CAN HELP
We sincerely appreciate our partners in this effort. Below are other opportunities to help a child at BECU:
Dental Kit initiative where each orphan will always has a proper toothbrush and toothpaste. The cost is $2 per kit and the kit is designed to last one semester.
Bible program so that every orphan and staff member has their own personal Bible. One version is provided so everyone has the same translation. $10 per bible
Christmas Celebration for the entire school including gifts for each student and staff member.
Support for 20 additional orphans. Cost $10k per year
Support for 20 secondary students at Brilliance High School. $900 per year per student. Est. cost $18k per year
Boy's dormitory with a capacity for 100 boys. There are currently 60 in need of overnight care and the desire is for space for an additional 20 boys on the waiting list. The existing facility will be converted back to two classrooms. BECU has a need for additional classrooms as several classes have from 48 to 60 students. Their planned classroom capacity is 35.
Multipurpose Cafeteria/arts building. Est. cost $44K
Lightning arresters and fire extinguishers on all buildings. There is currently no fire protection. This will soon be required by the government.
Additional 5-10 acres of land for food production. Est. cost $25K
School library and computer lab for 25. Est. cost $90K
Vocational school for students not able to proceed to high school.
Financial software package and required computers to automate their accounting package. Est. cost $10K
36 passenger bus for school trips and to transport children to school who live too far to walk daily.
Staff housing for 6 teachers. Est. cost $20K
School furniture and new textbooks. Est. cost $10k
Overall guidance for the school is under a nine-person board of trustees, who rotate off every three years. All teachers have a college degree in the field in which they are teaching.
The government has mandated that all teachers must be certified and have completed their certification process within 7 years. Currently, there are no certified teachers at either BECU or Brilliance. However, the process has been started at BECU this year. According to standard government test results, BECU is in the top 3 schools in the southern region of Uganda as is Brilliance High School! The stated goal per the Board of Trustees is to be number 1 in the next 3 to 5 years.
Most of all we need your prayers for the children and staff. If I can help, please contact me via email at derylbeakley@gmail.com or via my cell phone at 817-312-8100.
All our blessings,
Deryl Beakley
President of BUCC
P.S. Check out our trip videos and ways you can help a child on our Facebook page.